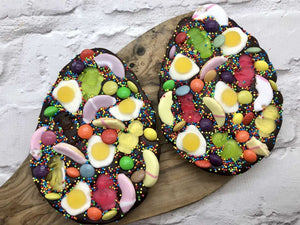 The ultimate experience for all those chocolate lovers out there, which takes place at our Chocolate shop in Eastwood, Leigh on sea, Essex, SS9 5UZ. This takes place in our smaller back chocolate kitchen..
Session times: 30 mins in total, please allow the maximum time for this session.  You will be making your own 1 x chocolate decorated Flat Easter shape, which you take the chocolate mould home with you as well.
Ticket information:  
This event is carried out at the back, where we only have room for 12 people in total.  Both children and adults are welcome to join in the fun. If you wish to wait at the front, that's fine, but we must stress that only those that have been paid for will go to the back Chocolate room.  We have a restaurant at the front where you can wait. Due to the nature of these classes mainly having children attending, we will ask that adults only attend if they are accompanying a child themselves. We are happy to bring chocolate out the front if you are an adult group wishing to take part. 
We can cater for made with Vegan, Gluten and Dairy Free products, but we must stress we use all ingredients on site. this will need to be highlighted at us at: bookings@sarahschocolatekitchen.co.uk this MUST be booked in with us before you arrive to the shop.  Every element of allergy on site could be airborne in chillers, and rooms via our AC systems. 
We cannot cater for Nut Free at this premises unfortunately.
Arrivals: We ask that you allow plenty of time to park and be ready to start promptly at the start time, as we will be running sessions throughout the day. Just to note, it's very hands on.
Please note: At our session we will have milk chocolate on tap.  If you have any allergies, please advise us in plenty of time to ensure we have alternatives available.
Allergies: Please advise of skin allergies, and the same for food allergies. We do use and make products with nuts on the premises, so must stress this as a warning to anyone who has an extreme nut allergy.
Location: Sarah's Chocolate Kitchen Limited, 83 Rayleigh Road, Eastwood, Leigh on sea, Essex, SS9 5UZ, we are located right next door to The Eastwood Academy, we have limited FREE street parking outside our premises, but it can be quite busy at certain times of the day.
Price: £13.50 per person.  This is a 30 minute session only.
Age: Open age for this activity
Cancellation policy: at this time we are not able to refund any cancelled booking if you are not able to attend.  If we have a waiting list of people that can take your tickets we will try our best to sell them again for you, but this is not always possible at short notice.  Booking is at your own risk. We are such a small business that we would not survive if we lost customers on each booking and they required refunds, as our event would not be covered for the cost of entertainment, staff and food if part of ticket fee. 
Disclaimer: as of March 2020 our credit card facilities and PayPal no longer refund their fees for any refunds. We follow the same procedures as well. 
Please do not attend the classes if you suspect you are ill or showing any signs of Coronavirus symptoms.